I saw this on Tonya's blog and had to give it a try!  For those who know my daughter, our house is full of Disney Princess stuff.  She is so proud of me for being Snow White.  
You Are Snow White!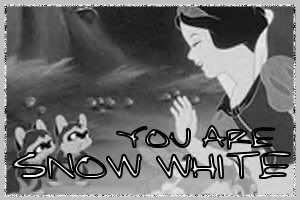 Pure and trusting. You are a gentle soul who can get along with just about anyone. Everyone you meet instantly falls in love with you. How can they resist? You have a pure, lovable nature that's irresistable. Just don't trust everyone who comes across your path.
Which Disney Princess Are You?
How funny!  I don't know, does it suit me?  I am not sure that I'm so gentle, but hey, today I'll take it!